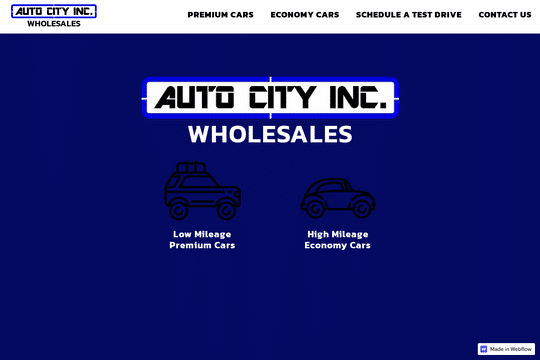 Description
This is a project for a small car sales business located in Carmel, IN. The business has a two-pronged sales approach. It sells low mileage, late model vehicles primarily to large auto dealerships, as well as high mileage, affordable vehicles directly to consumers. As you can see, in order to avoid needing two separate sites, or having a members-only login portal for dealerships, we created two separate collections for premium and economy vehicles. However, the pricing model is very different for each collection. The premium vehicles require a direct inquiry for price, while the economy vehicle prices are listed on the website. Using a 3rd party app, Calendly, customers can schedule appointments themselves within the parameters we set, or they can send direct message using the contact form. The form requires a name, valid email and phone number, allowing the business to collect valuable information for future email and text message marketing campaigns.
Feeling inspired?
If this Made In Webflow site sparked some inspo, why not get started on a project of your own? Clone a site, purchase a template or start building from scratch.
We miss comments too!
Right now, Made in Webflow doesn't offer all of the same functionality that Showcase did, like the ability to leave comments. But don't worry: We're working to bring comments back as soon as possible!
As always, we'd love to hear your feedback! Click the link below to take a short survey about Made in Webflow.