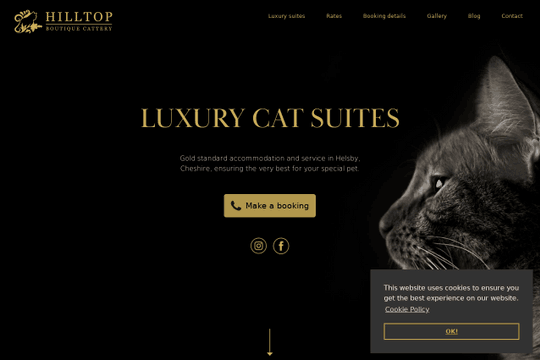 Description
Responsive website design for Hilltop Boutique Cattery with CMS features. Designed in Adobe XD and built-in Webflow. Hilltop Boutique Cattery, a brand new luxury cattery based in Cheshire, required a website that captured both the beautiful surroundings and relaxed atmosphere of its high-end suites. The brief was to produce a site that evoked luxury, helping it to stand out from the competition. The visual identity that I created for Tina will help her establish Hilltop Boutique Cattery as the go-to luxury cattery in her local and surrounding areas. I delivered on the positioning and messaging of the brand, and the client was over the moon with the results.
Feeling inspired?
If this Made In Webflow site sparked some inspo, why not get started on a project of your own? Clone a site, purchase a template or start building from scratch.
We miss comments too!
Right now, Made in Webflow doesn't offer all of the same functionality that Showcase did, like the ability to leave comments. But don't worry: We're working to bring comments back as soon as possible!
As always, we'd love to hear your feedback! Click the link below to take a short survey about Made in Webflow.