The Eternals - New Agency on Webflow Map.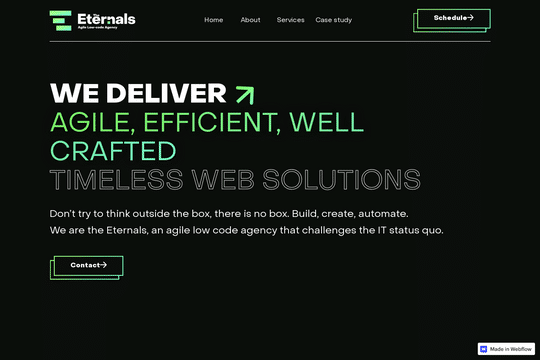 Description
We are The Eternals and we are launching today. An agile, low code & Webflow agency - you need to know if the digital is your thing. Join us on this low code journey through the IT market while our developers, creators & strategists will try to reshape that current basic approach you've seen in web development, automation and design.
Feeling inspired?
If this Made In Webflow site sparked some inspo, why not get started on a project of your own? Clone a site, purchase a template or start building from scratch.
We miss comments too!
Right now, Made in Webflow doesn't offer all of the same functionality that Showcase did, like the ability to leave comments. But don't worry: We're working to bring comments back as soon as possible!
As always, we'd love to hear your feedback! Click the link below to take a short survey about Made in Webflow.