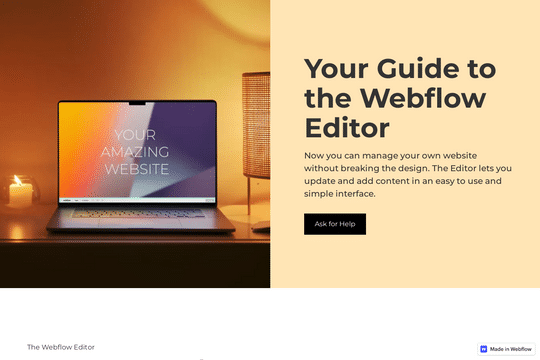 Description
This is a client guide for using the Webflow Editor. This is meant to be customized to your client's website. This could be put on a client website or your website. Could be connected to a CMS or with a password. I would add custom images and videos for explanations. I also built a template version in Notion for copying and customizing. https://www.notion.so/junipersmith/Your-Guide-to-the-Webflow-Editor-2ea6ccb3d7b34498a709b39a735b83f6 Built with Client-First and heavily, heavily influenced by Webflow University.
Feeling inspired?
If this Made In Webflow site sparked some inspo, why not get started on a project of your own? Clone a site, purchase a template or start building from scratch.
We miss comments too!
Right now, Made in Webflow doesn't offer all of the same functionality that Showcase did, like the ability to leave comments. But don't worry: We're working to bring comments back as soon as possible!
As always, we'd love to hear your feedback! Click the link below to take a short survey about Made in Webflow.