Pixar Animations Redesign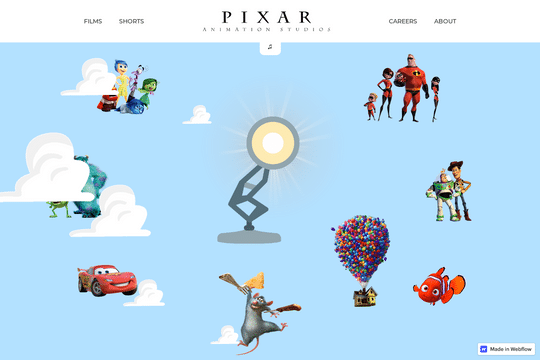 Description
Hi, my name is Matan Assulin and I love designing clean and fun websites that contain various animation triggers that appeal to the eye. I will never create a stand alone still site. This is a site I created just to add to my portfolio and to be able to show a few functionality uses I can make happen using webflow. If you like what you see and are looking to create a cool site for yourself, go to assulin.com and contact me through there. If your just curious how I created certain anitmaions on this site, I don't mind giving helpful advice for free to fellow webflow developers, just shoot me a message and Ill gladly explain to you how I made certain things function. Thanks for your interest, enjoy the site, and watch a few trailers of Pixar's greatest films!
Feeling inspired?
If this Made In Webflow site sparked some inspo, why not get started on a project of your own? Clone a site, purchase a template or start building from scratch.
We miss comments too!
Right now, Made in Webflow doesn't offer all of the same functionality that Showcase did, like the ability to leave comments. But don't worry: We're working to bring comments back as soon as possible!
As always, we'd love to hear your feedback! Click the link below to take a short survey about Made in Webflow.