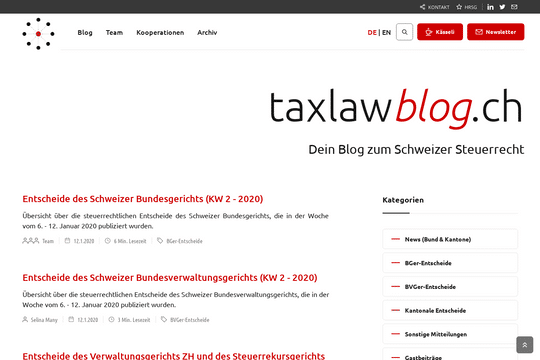 Description
Modern tax lawyers* are required. In addition to day-to-day business, there are a lot of important news, updates and court rulings waiting to be filtered and consulted. Today, information on tax law is distributed across a wide range of sources. Keeping the overview is not always easy. And above all, it costs valuable time. taxlawblog.ch offers you the perfect solution. We systematically monitor all available sources of Swiss tax law for you, without gaps or interruption. We make the available information available to you in bundled form, promptly and compactly on our blog. This way you keep track of tax law and are always up to date.
Feeling inspired?
If this Made In Webflow site sparked some inspo, why not get started on a project of your own? Clone a site, purchase a template or start building from scratch.
We miss comments too!
Right now, Made in Webflow doesn't offer all of the same functionality that Showcase did, like the ability to leave comments. But don't worry: We're working to bring comments back as soon as possible!
As always, we'd love to hear your feedback! Click the link below to take a short survey about Made in Webflow.