Linkedin Feed - Free to clone - Webflow template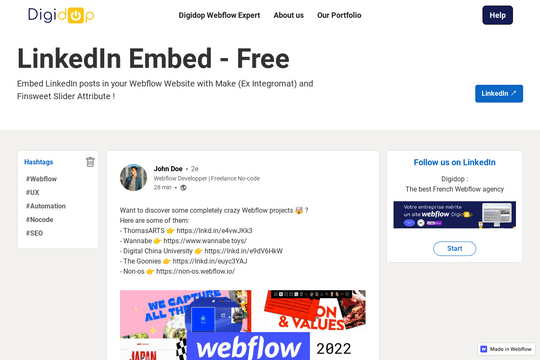 Description
Hi Webflow developers ! (EN) Digidop has released a new free template: LinkedIn X Webflow With this template, you can easily add your LinkedIn posts in your Webflow project. Thanks to CMS collections, you can quickly and easily integrate your posts. You can also automate collections with Make. This template uses the "load more" and "CMS Filter" attributes of Finsweet. You can clone this Webflow project for free and use it on your website. ✅ Free ✅ Client-first CSS classes ( CMS Filter Attributes + Load More Attributes ) ✅ 100% automated Make & CMS For more free Webflow templates: 👉 https://www.digidop.fr/ressources/templates (FR) Digidop vous propose un nouveau template entièrement gratuit : LinkedIn X Webflow ! Grâce à ce modèle, vous pouvez insérer vos posts LinkedIn dans votre projet Webflow en toute simplicité. Grâce aux collections dans le CMS, ajoutez vos posts rapidement et simplement. Vous pouvez aussi automatiser vos collections avec Make.
Feeling inspired?
If this Made In Webflow site sparked some inspo, why not get started on a project of your own? Clone a site, purchase a template or start building from scratch.
We miss comments too!
Right now, Made in Webflow doesn't offer all of the same functionality that Showcase did, like the ability to leave comments. But don't worry: We're working to bring comments back as soon as possible!
As always, we'd love to hear your feedback! Click the link below to take a short survey about Made in Webflow.