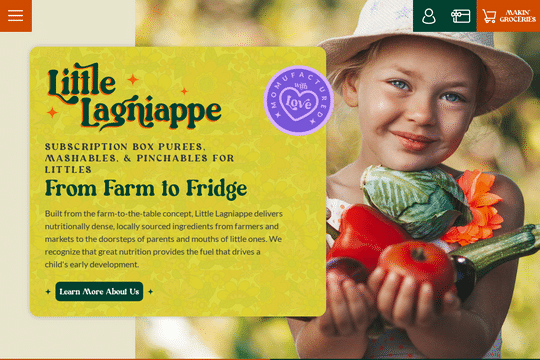 Description
Little Lagniappe is a subscription box for puree, mashable, and pinchable food for children. Built from the farm-to-the-table concept, Little Lagniappe delivers nutritionally dense, locally sourced ingredients from farmers and markets to the doorsteps of parents and mouths of little ones. We recognize that great nutrition provides the fuel that drives a child's early development.
Feeling inspired?
If this Made In Webflow site sparked some inspo, why not get started on a project of your own? Clone a site, purchase a template or start building from scratch.
We miss comments too!
Right now, Made in Webflow doesn't offer all of the same functionality that Showcase did, like the ability to leave comments. But don't worry: We're working to bring comments back as soon as possible!
As always, we'd love to hear your feedback! Click the link below to take a short survey about Made in Webflow.