We can hardly believe it, but it's been a year since we released Webflow CMS. In that year, thousands of designers have dived in to Webflow CMS to prototype with real content, build client sites, and push their business websites to the web.
And, also in that year, we've been asked to share what others are doing with our visual content management system. So, here you are: 12 of the coolest websites I could find, each powered by Webflow CMS.
1. Payable
San Francisco startup Payable helps both businesses and individual contractors better manage their payments, taxes, and benefits. And they power their marketing site, blog, help center, and a comprehensive tax guide for contractors and their employers with Webflow CMS.
The core marketing site uses CMS Collections to present Payable's various products, target industries, and various case studies. Payable's team makes smart use of Collections in these case studies to provide a consistent structure from study to study — click through them all, and you'll see entries for Time to Pay, Favorite Feature, Contractors, and Location in each.
But the CMS really shines for Payable in their comprehensive Tax Guide, which presents answers to common tax-related questions for three segments: companies, Stripe marketplaces, and contractors. You freelancers might want to bookmark this for reference later!
Payable also uses the CMS to run their blog — my favorite elements here are the custom excerpt (below the post's thumbnail) and their use of Disqus to add a social element to their publishing.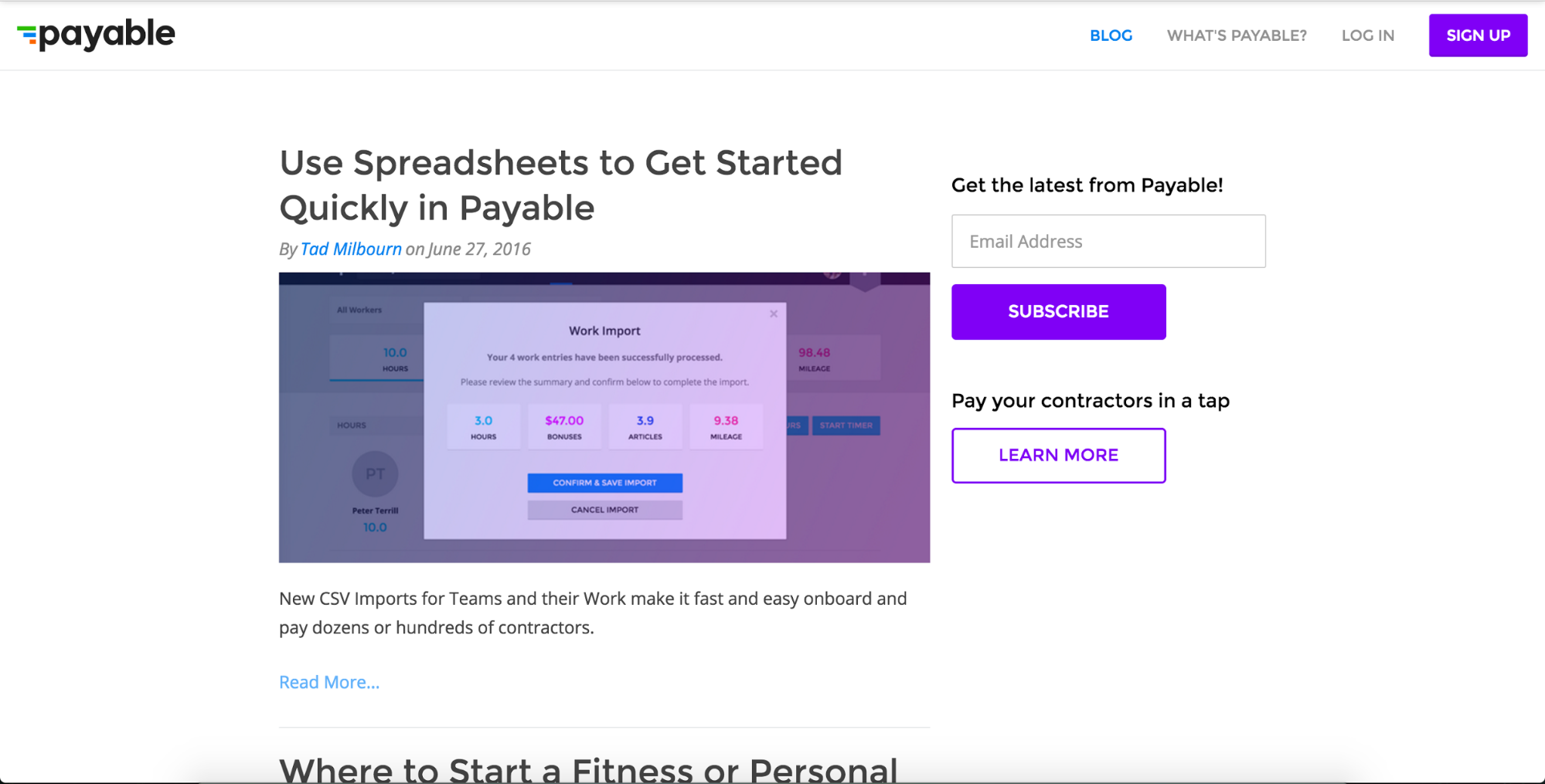 2. SketchDeck
As a content strategist at a startup that never has quite enough hands on deck, I know how useful contract designers can be. SketchDeck's "on-demand design team" offers a one-stop shop for all those marketing projects that lack manpower — and they use Webflow CMS to power their website!
Collections underlie their appropriately graphic-centric portfolio, as well as their blog, which features several in-depth, data-driven posts worth checking out. Top highlights for me are their analyses of business-to-business (B2B) case studies and brand style guides. Good stuff, SketchDeckers!
3. Akdemia
Akdemia's school management platform promises it's beautiful, easy to use, and designed to bring out the best in your school. And if their website's any indication, their product must be amazing.
Built by Webflow user Carlos Lagrange — who's turned out several Webflow favorites, including Code Cards — features a beautifully minimal, yet colorful design with plenty of room to breathe.
While most of the site's static, Akdemia does run its Spanish-language blog with Webflow CMS, highlight one feature article with a full-bleed background image that fades away behind a newsletter signup form, before returning to a grid of older posts.
4. Creative Proposals
In Creative Proposals, Webflow user Sidney Ottelohe turned Webflow CMS to the rather meta task of building and sharing design proposals with clients.
And the best part about it? Sidney's made the website freely cloneable to everyone who uses Webflow! Just click "Clone this Generator" in the top right and you'll be taken to the project page, where you can add the template to your account and then make it your own with a new layout, visual style, or even a completely revamped content structure.
That said, you may not even need to update the content structure, which comes complete with clients, two completed proposals (which illustrate how all the Collections come together to form a proposal), a bunch of pricing options and services, and a few sample timelines.
Overall, it's a super professional and thematically appropriate way to package up and deliver proposals to potential clients. Big hat tip to Sidney!
5. Avocode
Avocode's a handy tool for those still designing websites on their desktops in Photoshop or Sketch, because it lets you upload your mocks and outputs CSS (plus measurements, colors, and assets). But they're pretty fond of Webflow too, using it to power their marketing site, and their community-driven blog.
The blog features a clean design with plenty of whitespace, and quite a bit of helpful content from Avocode users, categorized into Design, Code, Backstage, and Stories.
6. Progress.org
Progress.org is a high-volume, deeply political publication with a mission of promoting "equitable and scientific ideas that practically support our evolving humanity." With topics ranging from how we'd be perceived by alien civilizations to why the privatization of the moon is inevitable to speculations on the perfect taxation model, the website's packed with thoughtful opinions you probably haven't heard anywhere else before.
While I won't be offering an endorsement of the content per se (largely because I've been busy reading other stuff), I think this CMS website's worth noting simply because of the volume of its content, as well as Webflow's adaptability and extensibility.
You can see those characteristics in a few design elements worth calling out. First is the integrated site search, which looks to be powered by Swiftype (just like the Webflow Help Center). Then there's the semicircular nav, which seems familiar … possibly because our own Waldo Broodryk built something similar. And then to top it all off, they use a slider to deliver articles to the homepage feed.
As a certified content geek, though, my favorite element is the "series" design, which presents thematically linked articles into a greater whole if you're looking to dig deeper on a particular topic.
An intriguing design captures "series"—thematically linked articles exploring a single topic in great depth.
7. Friction Labs
Friction Labs (built by former Webflower Mat Vogels) makes athletic chalk for "athletes who demand better grip," but it's much more than a store (powered by integration with Shopify).
Beyond the shop, the site highlights accomplished climbers and other athletes who use Friction Labs chalk, but also provide a little inspiration for less-renowned customers.
There's also an educational blog covering everything from basic climbing techniques (like the "dropknee") to how to take an epic climbing photo for your Instagram account. Because, you know, pictures or it didn't happen, right?
8. The Restless Realist
The Restless Realist is another sprawling blog with a decidedly political bent and a beautifully editorial aesthetic, designed by prolific Webflow Community Expert (and teenager!) Arthur James. The publication itself began as a personal project by Daniel Berman, a PhD student in History at the London School of Economics, whose political writings gained popularity during the Russia-Ukraine conflict of 2014.
UI and metadata elements appear in the spare sans-serif Karla, with headlines set in the embellished serif Prata, and body copy in Amiri. The content ranges from in-depth commentary on specific issues like Hillary Clinton's health "issues" to book reviews.
With the US presidential election in full technicolor swing, the site's imagery has gotten a bit homogenous, but the content still makes it a decent place to pop by for updates.
9. Fuseboard help center
Fuseboard is a Trello-like project management app with extra features designed for freelancers and agencies looking to track proposals and deals along with projects. And when they wanted to quickly create a CMS-powered help center, they turned to Webflow CMS.
On page load, you're greeted with a prominent Google Custom Search bar — always a good move to simplify access to documents, rather than expecting people to traverse your help center's information architecture to find answers.
But even without search front and center, it's fairly easy to find what you're looking for, with all guides divided between "user" guides and "admin" guides. Individual guides feature a handy anchor-linked table of contents to the right, as well as links to related topics. The site also makes great use of clear, simple bulleted lists and UI screenshots with relevant parts of the product highlighted.
10. Usermind
Usermind calls itself the "first unified platform for customer journey orchestration" — which sounds like it could be pretty useful! They also emphasize that there's no coding required, which we're obviously on board with.
Various "solutions" pages cover top use cases for the product in useful depth, and a Collection of integrations makes it clear what Usermind hooks up to and how to build specific user journeys out of particular integrated apps.
They also use the CMS to run their blog, which offers a mix of feature announcements, think-pieces, and how-to style posts that are probably super useful if you're in biz ops.
11. Red C
London-based digital agency Red C recently made the switch to Webflow CMS, and they've done a bang-up job with it. There's a lovely consistency to the entire website, with big, bold headlines, animations that draw the eye without overwhelming, and a pretty persistent contact form on nearly every page.
Duotone treatments on page header images help to maintain the even feel, as does the background color treatment on client logos in the portfolio. The category tags on the Our Work page are a nice touch, helping potential clients easily find a relevant case study.
The blog diverges from the usual header treatment a little, with a unique image for each post, but it still feels very much of a piece with the rest of the site. And I have to say: I love Red C's relatively straightforward design approach here. I see so many agency sites with layouts that are so "creative" they border on confusing — Red C's site gives you feeling that their team's creative enough, sure, but also focused on achieving your business results.
12. Best Tools
Now, I'm definitely biased here, but Best Tools remains one of my favorite Webflow CMS sites — and not just because Mat Vogels and I worked together to build it on Webflow's first hackday.
Curation sites have been all the rage of late — perhaps because they're both inspired by and popular on Product Hunt. And while many present popular tools based on particular uses, we wanted to add an extra layer whereby you could find the right tool for you based on your profession.
Of course, most everybody wears more than one hat, so you can still find tools by category, but I'm still fond of the focus on the user, not so much the tool.
13. Webflow Ebooks
And, of course, I can't leave out our very own ebooks site! Curated from in-depth articles straight from the Webflow blog, our free ebooks offer detailed tips and insights on web design and freelancing. And a third ebook is just about ready to join the list, so stay tuned!
Oh, and if you want to know how we made it, check out our article (and video tutorial), "How to build an ebook website."
Have a Webflow CMS site you'd like to share?
We'd love to see it! Let us know in the comments (note that Disqus tends to mark links as spam, so I'll be keeping an eye on the spam filters) — or better yet, tweet a link with the hashtag #MadeInWebflow.